Indoor Ag-Con 2021 - Pricing Packages Coming Soon!
Have a Promo Code?
Here's Where that Promo Code Goes!
If you have a discount promo code, click the button above for a quick screen shot showing you where to add the code when you start filling out the online registration form.
Your Pass Includes Access to:
Get the ultimate tool and learn how to grow your audience and build an online business.
All conference sessions and exhibition floor*
Event App
Indoor Ag library
Cocktail Receptions, Lunch and Hospitality Features
Gift Bag, including NEW White Paper
Additional Information
Get the ultimate tool and learn how to grow your audience and build an online business.
Email hello@indoor.ag
Call 404-991-5186
See additional registration details below regarding refunds, pass availability, dietary preferences/special meals , invitation letters and other miscellaneous information
Discounted hotel rates available at Treasure Island!  See below.
Indoor Ag-Con Discounted Hotel Rates will be Available
Following our upcoming announcement on Indoor Ag-Con's new dates/location, look for more information on specially discounted rates at nearby hotel properties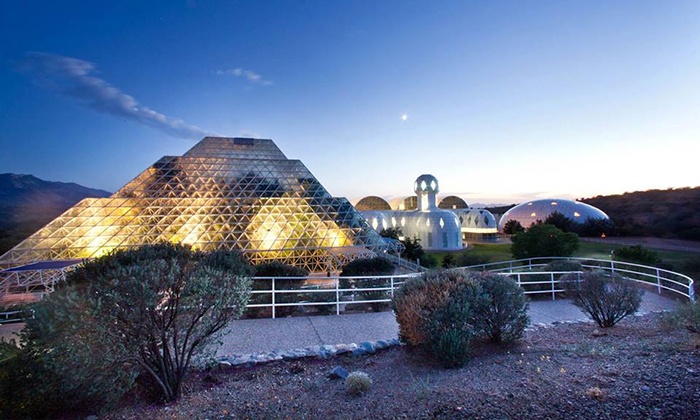 Attend & You Could Win 2 Tickets to Biosphere 2
When you arrive at Indoor Ag-Con, be sure to enter for your chance to win  two general admission tickets to Biosphere 2  and an overnight stay at  B2 cabanas!
The winners will get to tour one of the world's most unique facilities dedicated to the research and understanding of global scientific issues. The Biosphere 2 facility serves as a laboratory for controlled scientific studies, an arena for scientific discovery and discussion, and a far-reaching provider of public education.
What's more, as part of the package,  the University of Arizona Controlled Environment Agriculture Center (UA-CEAC)  would like to also extend an invitation for the recipients to its vertical farm research and educational facility (UAgFarm) at UA-CEAC and other UA-CEAC projects/facilities as an additional welcome!
Additional Registration Details
Refund Policy
In the event Indoor Ag-Con is postponed | rescheduled due to the evolving Coronavirus |COVID-19 situation, attendee conference passes will be refunded 100% or you also have the option to transfer your pass to our future edition with a 5% discount.
Otherwise, we do not offer refunds on passes but you are welcome to transfer your pass to a friend or colleague at any time up until 3 days before the event.  Please email hello@indoor.ag for more information. And, see our complete Terms & Conditions for additional details.
Pass Availability
Passes will be available online through Monday, May 20, 2020.  Our venue has capacity limits and we cannot guarantee that passes will be available.  If any passes are available on the door, they will be at a 'door' price, we will not offer any subsidized passes. Passes are required for all entrants, regardless of their role, including "booth staff", "assistants" or "helpers".
Dietary Preferences & Special Meals
Check the registration application for details and options for special meals/dietary preferences.
Invitation Letters
We are happy to provide invitation letters for visa purposes, and these can be added to your order at a cost of US$20/letter.  This covers a fraction of the cost of our staff time to prepare documentation.  Please email hello@indoor.ag to  order an invitation letter once you have purchased your pass.  We do not prepare invitation letters for those who have not yet purchased passes.
Miscellaneous
Our events are open to those over 18 years of age.
All prices are in US dollars.
Pass prices are per person, not per company, team or family.
Parking is not included in the pass price.